Neelum Valley is a valley of fountains, springs, waterfalls, flowering trees and plants. Geographically too, it is a hospitable valley. The Neelum Valley, 90 miles long bow-shaped with majestic pine, fir and deodar trees, lies north-south of Muzaffarabad (capital). This ninety-mile long kingdom of vegetation is ripped apart by the indigoblue Neelum river which flows serpentinely down hills to merge itself into the river Jhelum at Domail.
Patika
The valley is accessible by an all weather road metalled up to Kundal Shahi and well maintained up to Kel. At the gateway to the Valley lies a sprawling town of Pattheka with a dependable commercial centre. For a tourist, Pattheka can be the first journey break. This town has a modest bazaar with day-to-day activity. All essential items are available in the bazaar which feeds a fairly large number of villages behind it. On its back runs the forth-emitting river Neelum. The village and bazaar are connected by a suspension bridge crossable by jeep alone. This old bridge is being replaced with an RCC one enabling it to afford heavy traffic. The running streams, water channels and water falls across the Pattheka village present another heart winning scene.
Kutton
Uphill road from Kundal Shahi leads to Kuttonat a distance of 6 kilometers. The picturesque Kutton and Jagran is best to visit during April to October. Here the Greater Hydle Power is also an additional attraction for the tourists. The famous Nullah Jagran passes through this valley. At kutton about 8 kilometers from Kundal Shahi a hatchery for Trout fish is established by the fisheries department. Tourism Department has provided accommodation facilities for the visitors here.
Sharda
The most picturesque place in Neelum Valley is " Sharda" it is located at a distance of 136 Km from Muzaffarabad and 30 Km from Dowarian. It is a breath taking spot. This place from the point of view of tourists is so attractive and captivating that they get their money's worth when they spend a few days here in their sojourn amidst nature. In Sharda one also finds ruins of an old place of learning. The presence of these ruins lends Sharda is a historical background providing special attraction for the people interested in archaeology and history.
Keil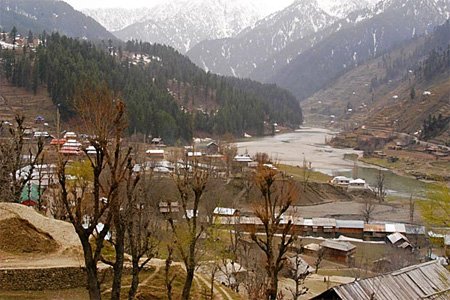 19 kilometers journey from Sharda, upstream takes one to Kel. It is a small valley at the height of 2097 meters. This is another picturesque place in the Neelum Valley. The Shounter Nullah joins river Neelum at this place and leads to Gilgit Agency over the Shounter Pass (4,420 meter). Kel is also a base camp of mountaineering activities up to "Sarawaali Peak" 6326 meters above sea level and "Sarawaali Glacier" (about 25kms long) which are said to be the highest peak and biggest glacier of Azad Kashmir.
Ratti Gali
Ratti Nar Lake in Ratti Gali, a trek from Noori top, Northern Areas into Kashmir, Pakistan,at the elevation of 13000-14000 feet above sea level. This valley and trek is Alpine Meadow/ Himalayan tundra, around august these green pastures are filled with wild alpine grass and flowers and some orchids, but because of last year heavy snowfall, snow melted too late for full blossom.
Post is Sponsered by www.ajktours.com
Comments
comments